AN EMPATHIC WRITING SERVICE
Sincere and complete communication can be difficult. Our empathic writing service provides clients custom storytelling solutions for any occasion.
We write for those challenging moments when:
You don't know what to say and you have everything to say
You have the words in mind but don't have time to refine
Our writers specialize in poetry, fiction, and literary journalism. It is our wish that messages created through our empathic writing service offer comfort, closure, inspiration, happiness, hope, and love to both senders and recipients.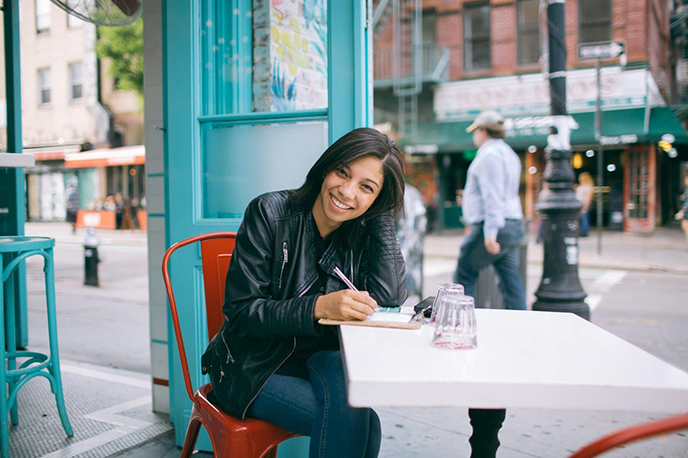 We Write For All Occasions:
Birth
Baptisms, Christenings, Congratulations.
Death
Condolence, Eulogies, Obituaries, Legacy Stories.
Love
Letters, Vows, Anniversaries, Toasts.
Outreach
Newsletters, Media Kits, Biographies.
Transitions
Separations, Difficult Departures.
Other
Motivational Speeches, Affirmations.
Testimonials
WHAT THEY SAY

I can't thank you enough for putting my thoughts into a message. My thoughts were jumbled and all over the place. I feel like you articulated exactly how I felt and the message that I wanted to deliver perfectly. It was still true to who I am and my personality was exemplified throughout the entire speech. Thank you again for making me one of the most memorable speakers of my time.
Abby Williams

I was in the process of transitioning from one job to the next and was in need of a resignation letter that would assist in making my exit from a company I'd really grown to love as smooth and as positive as possible. After a short consultation with Zindzi, answering a few questions, the very next day I received the letter I needed and it was perfect! I would very highly recommend this service to anyone needing writing services. I cannot imagine a better experience!!! Thank you Zindzi!!!
Imani Damali

Up until that day, the words that I needed to express my feelings flowed effortlessly. But on this occasion, I required words that came from a place of empathy and sympathy. I was unable to produce such, as somehow I was sharing in the pain being experienced by my love. I trusted Stacia to 'work her magic', and she, as usual, delivered. She produced the most thoughtful, moving, fitting and tear-jerking message. In those few words, I Hope This Message Finds You Well set in motion a much needed catharsis and allowed for a healing process to truly begin. So thank you for finding the words when I couldn't.
Safiya Greaves
EMPATHIC WRITING SERVICES
Still have questions? Feel free to contact us or browse the additional services below.
CONTENT CREATION SERVICES
PROPOSALS, MEDIA KITS & WEBSITES
Design & Content
1 FREE phone consultation

Deposit Payment: 50% non-refundable deposit

BONUS: Refer A Friend, Get 15% Off Deposit Payment on Next Request! *

+ $5/hr for extensive revisions outside the scope of the original project
COPYEDITING & PROOFREADING
Most Popular
1 FREE phone consultation

Deposit Payment: Starting at $50.00

BONUS: Refer A Friend, Get 15% Off Deposit Payment on Next Request! *

+ $5/hr for substantive or line editing
COVER LETTERS & RESUMES
Content & Revision
1 FREE phone consultation

1 FREE revision

Deposit Payment: Starting at $45.00

BONUS: Refer A Friend, Get 15% Off Deposit Payment on Next Request! *

+ $5/hr per revision after 1 FREE revision
*Payment Terms
Projects are payable in two (2) installments: 1.) an initial non-refundable deposit payment and  2.) a final payment for any additional services, words or hours not covered by deposit payment.
For long-term and larger projects ( > 1,500 words), a 50% deposit is collected upfront and installments are payable at agreed points of progress.
I Hope This Message Finds You Well accepts all global debit and credit card payments through PayPal with no additional fees.
All amounts are USD. Rates may change at any time without notice.
Referral Terms 
One (1) referral discount of 15% will be applied to one (1) request at a time.
If you refer 4 friends, for example, you will have the option to receive 15% off the deposit payment on four (4) future writing requests.
The referral discount is redeemed ONLY when the referred friend purchases a service from I Hope This Message Finds You Well.
Delivery Terms
Your inspired thoughts and words will be delivered as an MS Word (.doc) document in an email attachment.
Please allow at least 2 – 3 days for your unique I Hope This Message Finds You Well message to be crafted.
If you need your message sooner, expedited delivery is available at 20% above deposit payment amount.
I Hope This Message Finds You Well assumes or undertakes no liability for any loss or damage suffered as a result of the use, misuse or reliance on the information and content on this website.
BONUS: Get YOUR JUMP-START Online Business Guide!