A STUDENT WRITING SERVICE
Success while enrolled and, ultimately, in the workplace weighs heavily on the quality of your student writing and how effectively you communicate using words. Our student writing service provides support at every stage of the writing process.
With one of our student writing facilitators you will:
Share your draft and get feedback about your writing project(s)
Ask questions and get advice on ways to start and boost your writing
Ace the written portions of job and college applications
Transform your academic writing goals into realities!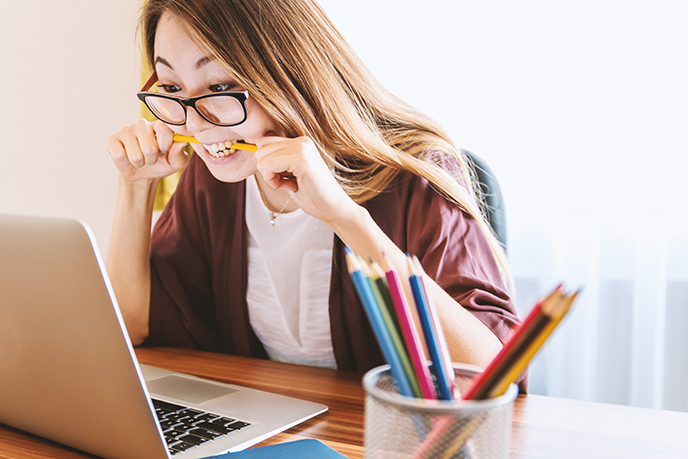 Interpret a Writing Assignment
Break down your next student writing prompt by identifying the purpose, topic and task of the assignment.
Generate Ideas
Banish writer's block by using customized brainstorming techniques like freewriting, listing/bulleting, mind mapping and more!
Sharpen Thesis Statements
Land a clear argument by brainstorming, creating, testing and sharpening the perfect thesis statement from which to develop.
Organize Ideas and Research
Create scratch and formal outlines that help you to pinpoint, connect, support, and expand on your ideas in a logical fashion.
Develop Logical Arguments
Establish a flow by skillfully evaluating sources, collecting data, and using inductive/deductive reasoning to synthesize your findings.
Refine Your Language
Utilize proven editing targets to define your "voice" and write more effective sentences, paragraphs, transitions, and conclusions.
Find Strategies for Revision
Discover powerful strategies for revision by paying attention to flow, reading your work aloud and much more!
Identify Recurrent Errors
Avoid common mistakes by building awareness through our guided explorations and comprehensive proofreading and copyediting reports.
Master Job & College Applications
Write winning resumes, cover letters and application essays by choosing the right topics and styles to highlight your strengths.
Testimonials
WHAT THEY SAY
The services of I Hope This Message Finds You Well was recommended to me by a mutual friend when I was in search of a reliable, professional and proficient editing service for my final paper in my D.Ed. program. I contacted Stacia and I was immediately impressed by her professionalism, experience and her attention to details. Stacia's extra pair of eyes made my paper read so much better than before. Another thing about Stacia's style of editing that worked for me was her ability to ask constructive questions. Her comments and questions are instructive and enlightening, so my writing ability improves after I read her suggestions. I have found that this style of editing has helped me to make my writing more coherent, which resulted in a Grade A document at the end.
Carleen Irvine

At the core of a great business lies customer service. Not only an exceptionally skilled organizer, writer, and editor in her right, I find Stacia's insight, patience, and world view (or in other words the soft skill set) essential to the process. From over thinkers like myself who, at times struggle with bringing many moving parts together or for some of my colleagues who needed assistance flushing out their ideas/feelings – this is a service that many can benefit from using.
Anton Kerkula

While applying for a graduate program I suffered severe writer's block on the final admission essay. I had all my ideas written down but after various attempts to write the essay, my ideas were not flowing as they did on the previous essays I wrote. At a dead end, I finally decided to reach out to Stacia at I Hope This Message Finds You Well. After consulting with her and providing her with the overall questions the essay needed to answer, she was able to take my ideas and arrange them in a way that flowed smoothly. Once I read the draft she sent me I was completely blown away by the way she was able to keep my original ideas and structure while suggesting transitional phrases that helped the essay move my point across. After such an incredible experience working with her and the "I Hope This Message Finds You Well" team, I will definitely never hesitate to use their services again and will definitely recommend them to my colleagues.
Christian Coakley
EXPLORATORY WRITING SESSION
1 Hour Per Session
1 FREE phone consultation

1 Online or In-Person session

Full Payment due before session

Assignment Prompt

 MUST be emailed 48 hours prior 
BONUS: Refer A Friend, Get 15% Off Payment on Next Request! *

If you've already written something substantial, consider our copyediting or proofreading services.
COPYEDITING
Per Assigment
1 FREE phone consultation

Deposit Payment: Starting at $27.00

BONUS: Refer A Friend, Get 15% Off Deposit Payment on Next Request! *
PROOFREADING
Per Assignment
1 FREE phone consultation

Deposit Payment: Starting at $25.00

BONUS: Refer A Friend, Get 15% Off Deposit Payment on Next Request! *
Looking for more? We create custom packages tailored to fit your education and project needs!
*Payment Terms
I Hope This Message Finds You Well accepts all global debit and credit card payments through PayPal with no additional fees.
All amounts are USD. Rates may change at any time without notice.
Referral Terms 
One (1) referral discount of 15% will be applied to one (1) request at a time.
If you refer 4 friends, for example, you will have the option to receive 15% off the deposit payment on four (4) future consulting requests.
The referral discount is redeemed ONLY when the referred friend purchases a service from I Hope This Message Finds You Well.
Confirming Your Student Status 
As our student rates are deeply discounted, please contact us from your school e-mail address to confirm your student status.
I Hope This Message Finds You Well assumes or undertakes no liability for any loss or damage suffered as a result of the use, misuse or reliance on the information and content on this website.
BONUS: Get YOUR JUMP-START Online Business Guide!